ARCHITIZER IS PLEASED TO PARTNER WITH MICROSOFT SURFACE AS WE PRESENT THE WINNERS OF THE 2014 A+ AWARDS. THIS SERIES CELEBRATES THE A+ AWARDS FINALISTS THAT ARE CHANGING THE ARCHITECTURAL LANDSCAPE BY TAKING ADVANTAGE OF THE OPPORTUNITIES THAT NEW TECHNOLOGIES AFFORD. AS THE MICROSOFT SURFACE PRO REPRESENTS A NEW OPPORTUNITY FOR ARCHITECTS, BUILDING MANAGEMENT, AND CONSTRUCTION WORKFLOWS TO BECOME MORE EFFICIENT, SO DO THE FOLLOWING EXPLORATIONS IN BUILDING DESIGN REPRESENT AMAZING EXAMPLES OF WHAT HAS BECOME POSSIBLE TODAY. READ ON FOR A BEHIND-THE-SCENES LOOK INTO ARCHITECTURE + TECHNOLOGY.
Animal-inspired architecture has undoubtedly been on the rise — the long legs of giraffes and spiders seem to naturally lend themselves to lofty buildings floating on spindly appendages. But what about creatures of the deep? You won't need scuba gear to witness the squid-like form of Biotic-Tech Skyscraper City by GPT Architecture in Santa Cruz de Tenerife, Spain, the Jury Winner in our Architizer A+ Architecture and Technology category.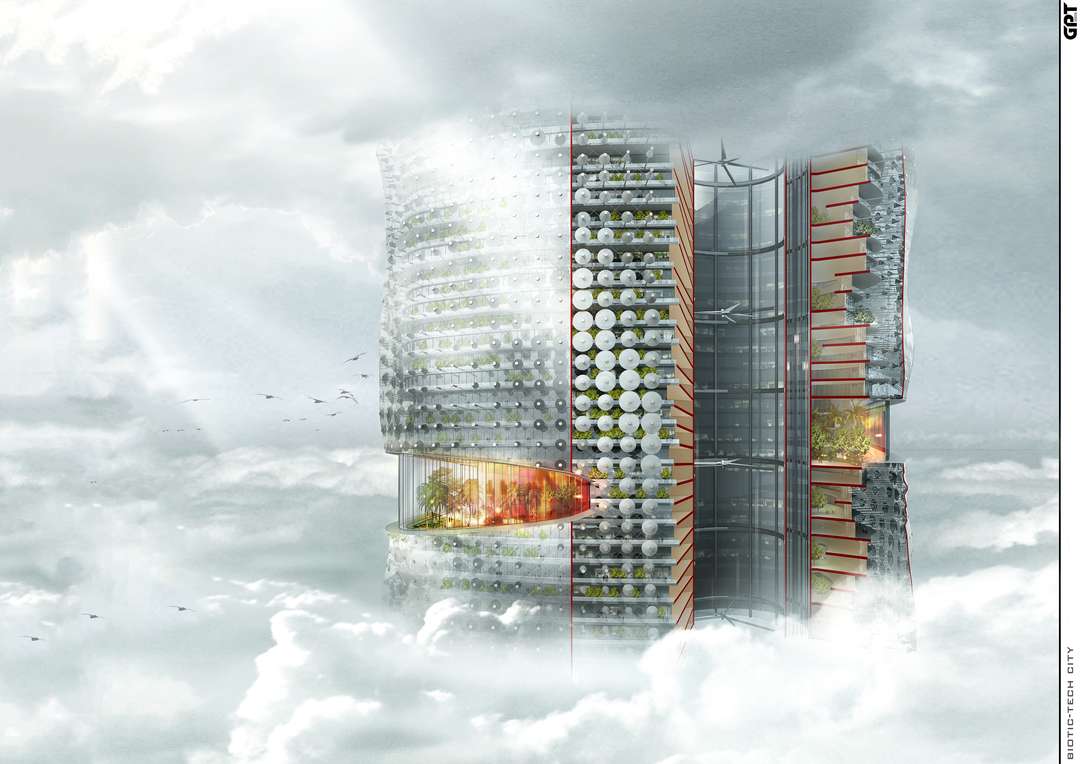 Responding to economic, ecological, and energy crises, the building is designed to be adaptive to its surroundings, taking cues from sea creatures that live in difficult natural environments. The qualities of this biomimicry include transparency, flexibility, movement and protective pigmentation. These characteristics are used to address the main elements (sun, air flow, water, and vegetation) that influence the technological envelope and unique shape of the tower.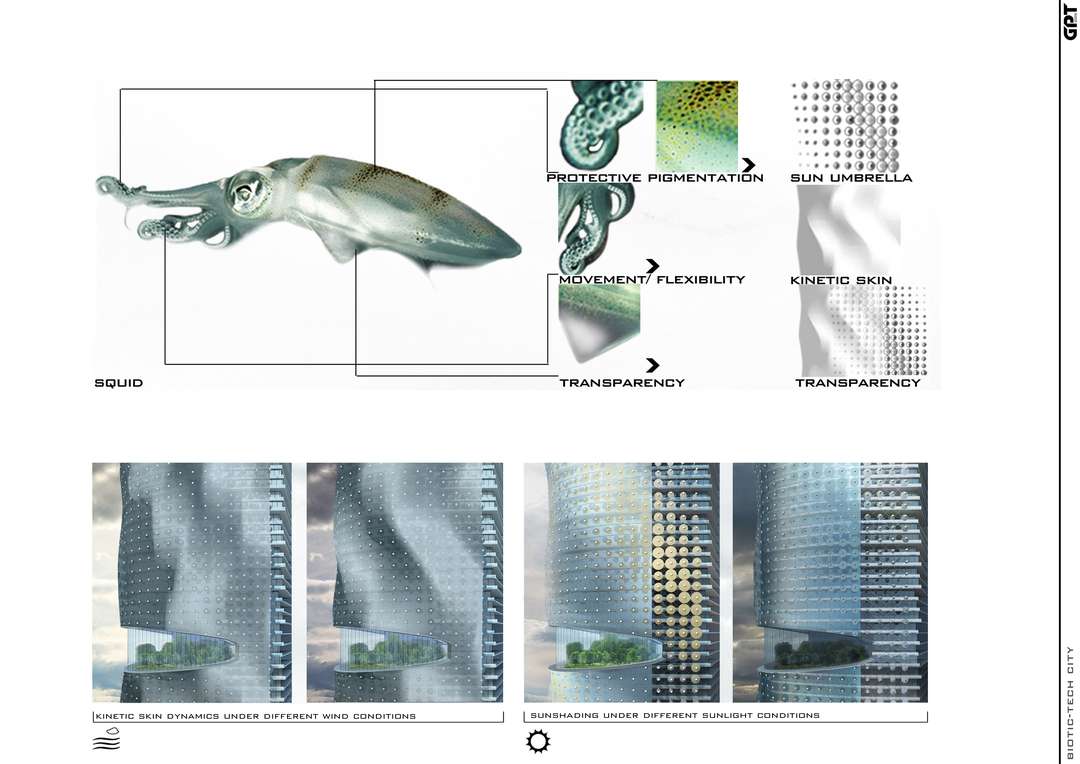 The design responds to the Canary Islands' intense sunshine with both active and passive systems. Actively, the facade is covered in "micro-umbrellas" which can open or close to maximum surface coverage to block the sunshine, while also collecting solar power, as they are covered in photovoltaics. The double-screen glass facade provides passive temperature controls to provide a comfortable environment and protect the interior.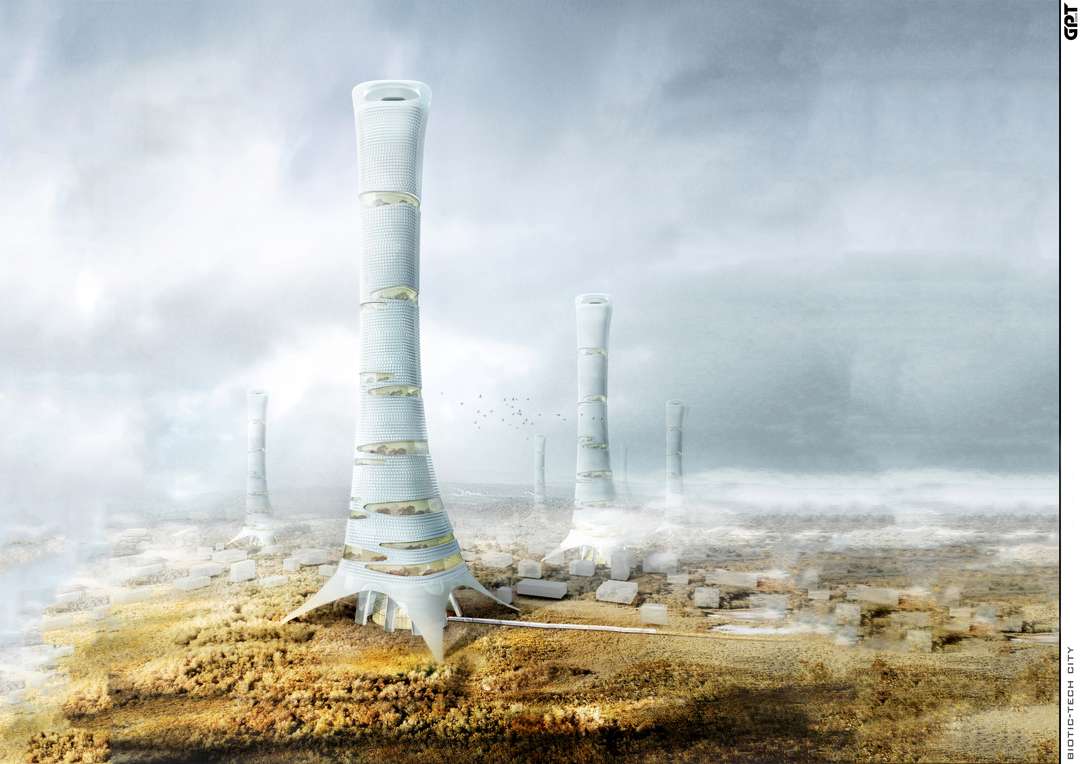 The exterior is made of an active system consisting of a polymer membrane that is flexible and can absorb the wind; micro-generators produce electricity by moving with this change in shape. Passively, air flow is controlled by a large central atrium which acts as a chimney while the top of the tower has three panels that collect and enhance this effect. No matter which way the wind blows, the ventilation always goes straight up, maximizing the chimney effect.
Water is harvested by collecting rainwater for the use of the entire building. This takes place on the roof, as well as on the double skin exterior, as there is greater surface space on the facade. Vegetation sprouts on top of the tower, and cascades downward. The designers visualized the project as a 3-D city, in which several types of urban programs are mixed vertically, including greenspace inside the double skin. In the lower levels, there is integrated green space for different living environments and connections to the subway system.
[…]
Matt Shaw
+ artículo publicado en architizer